5 Theme Parks That Will Give You The Thrill Of A Lifetime
This list is for the adrenaline junkies and experience lovers. Here's a list of some very unique theme parks that are perfect for any family vacation.
5 Theme Parks That Will Give You The Thrill Of A Lifetime
Amusement parks are exciting, but can be generic – which is why we bring you a much better opportunity to make your travel wholesome and heartwarming in the form of theme parks. Theme parks are not just about feeling the adrenaline rush. They can have a deeper, thoughtful meaning to them which makes them unique and downright perfect for a family vacation. 
Hersheypark
Why is Hersheypark the best theme park for you? Well, first off, it has a remarkable history. Milton S. Hershey, the founder of the Hershey Chocolate Company, had this theme park built for the Hershey's employees which he housed himself. This man has spent all his money on building a community out of goodwill, making a trip here very heartwarming. However, that's not all – the Hersheypark offers you every exciting experience a flashy amusement park would. The park has over ten remarkable roller coasters, amazing live shows with sea lions, performance arts to keep the adults entertained, their own Hersheypark Amphitheater, and new additions all year round. 
Some of the newer quirks of visiting Hershey park are Hershey's Chocolatetown, the thrilling, chilling, heart-filling new roller-coaster named CandyMonium, and plenty of other thematic activities that are sure to make Hersheypark a sweet escape for the entire family. Book flights and hotels to head on to Hershey, Pennsylvania, United States for your next family vacation. Travel package deals can easily can easily help you save money for this vacation of a lifetime.
This is why we recommend you let us, cheapestflightshotels.com, do the vacation planning effectively for you. The best vacation packages are just a click away! 
Nagashima Spa Land
Cut yourself some slack by visiting the Nagashima Spa Land this year. This water-themed park in Kuwana, Japan will thrill you to your core and then cleanse and warm your soul, all in one day! Japan is known for its medicinal sauna baths, relaxing hot springs as well as modern-day attractions that make children lose their minds (not literally, of course). The Nagashima Spa Land is well-equipped, with numerous roller coasters, thrilling rides for the teenagers,  kid rides to keep the little ones busy, while the adults relax in a steaming sauna. And not to mention a giant Ferris wheel for a view to behold… It's like a part of heaven fell down from the skies above.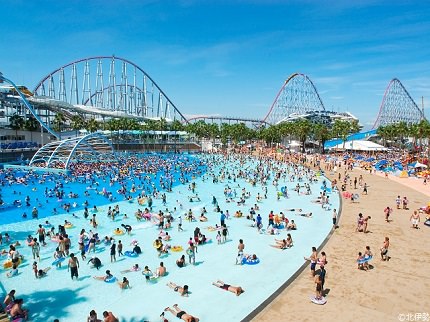 Not surprisingly, this park is ranked as the 18th most visited in the world. The best vacation package is, without a doubt, one that's full of memories, Instagram-worthy photography, and souvenirs. Make the most of your year with cheap family vacation packages available at cheapestflightshotels.com today. 
Knott's Berry Farm
You can't miss this huge, 160-acre theme park on your vacation to California. Here you can have the time of your life with an astonishing 40 rides, like topsy turvy roller coasters, wholesome, memorable family rides, spooky, chilling dark rides and cool, refreshing water rides. A tempting offer, isn't it?
The background of this amazing theme park is that it started out with a single berry stand by Walter Knott, and as the food business flourished, the theme-park came into being. It now has a jaw-dropping average of 4 million visitors per year! Along with an adrenaline rush, this park offers a berry farm for the family to visit, as well as all-natural berry products in their market for you to stock up for the groceries later on! It's a win-win situation, really. 
There's no point in missing out on this berry-themed park on your strategically cheap family vacation package. So book your flight and hotel today, and make 2020 worth it for the entire family. 
SeaWorld Orlando
All the nature lovers out there, hold your horses because you'll be astonished by what we're about to bring to you. The SeaWorld Orlando is a marine-themed park where you can meet all those pretty, colourful, mystic creatures of the water. If a visit here doesn't count as the best travel package deal, we don't know what does! 
Located in Orlando, Florida, in the United States, and notably, the 10th most visited amusement park, this site is actually an entertainment complex, with a total of three parks and loads of hotels for you to choose from. It's a two-in-one travel package deal- you may book your flight and hotel right in the theme park if you'd prefer! But hey we might have better deals at our website so check us out too 😉
SeaWorld Orlando is the hottest location out there, with an estimated 4.594 million guests on average. All the more reason why you should pack your luggage and head on over to have a scenic holiday amidst the beautiful creatures of the ocean. 
Legoland Windsor
Let's admit it- we love everything about lego (except stepping on them). Legoland is the most colorful, fun-filled theme-park you can take your youngsters to visit. There is a wide range of exclusively Lego-themed rides, Lego models from the movies, but that's not all- the park offers an educational insight by hosting building workshops, thus giving you the star you need for good parenting. 
There's a lot of hype around this scenic, modern-day theme park, given that it's the second most visited theme park in the United Kingdom. It's built to perfection – having a mind-boggling total of 11 themed lands, all with their uniquely designed restaurants, souvenir shops and other numerous attractions. A Lego enthusiast would indeed find this theme-park to be their haven! So why not find a cheap family vacation package and turn those frowns upside down? 
We at cheapestflightshotels.com are here to make your travel dreams an affordable reality. Start planning your next amazing vacation and use the search below. We compare hundreds of travel sites to find the cheapest flight and hotel deals on the entire internet, that's what we do – It's literally our name.
Zarish Suhail
About The Author: Zarish is a young writer who loves to highlight the importance of travel by sharing her thoughts and experiences in a positive, vibrant way. Other than writing about travel destinations around the world, she is a chess enthusiast, pet lover, sketch artist, and feels deeply about promoting global access to health-care professionally.
Check out these amazing places to visit in Vietnam to enjoy everything this paradise has to offer – from secluded beaches, resorts to high mountains. It's a must visit place for anyone.